Gather Your Team &
Cook LIVE with Top Chefs
AN INTERACTIVE EXPERIENCE
ACROSS ALL FOUR SENSES 

Create lasting memories & kitchen skills
Extremely fun and delicious!!
Now, more than ever, we need connections. Whether with your co-workers or your family, separated by thousands of miles or sometimes just neighborhoods, it can feel like gulfs between us. This is something we can share.
Engaging Shared Experiences & World-Class Chefs
Circle around the kitchen
& let's cook some amazing food
Together
Need a custom class? Call Chef Jason directly to design your unique event.

404-630-2019
Working directly with our Chefs and your dedicated Truffle Shuffle concierge, we will:
Step 1 - Select a dish
Step 2 - Gather your guest list
Step 3 - We ship everyone complete fresh ingredient kits
Step 4 - We ensure everyone is ready to cook with the Chefs
Step 5 - Your team enjoys one of the most delicious meals they have ever prepared
Kit pricing with all ingredients
Minimum class size 20
Starting price: $75 ea
Discounts on classes larger than 50 guests
Wine and premium options available
Menu Options:
Kit contents include:
Extra-virgin olive oil, truffle oil
Carnaroli rice infused with sliced black truffle
Organic skin on chicken breast  
White wine
Chicken or Vegetable stock
Onion
Butter, cream and parmesan cheese
A jar of balinese truffle salt
Lemon Ricotta Gnocchi Kit
Light, fluffy lemon ricotta gnocchi from scratch and dressed with brown butter sage sauce.
Your mise en place kit includes:
16 oz Bellwether Farms Ricotta
3 ea Egg yolks
1 oz Parmesan Cheese
1 ea Meyer Lemon
3/4C 00 Flour
1 Jar of Truffle Salt
4 T Butter
8 Sage Leaves
Fresh Orecchiette Pasta & Truffles Kit
The ultimate truffle pasta kit to prepare while on lock down.
In this truffle pasta kit, you get:
6.7 oz jar of our Black Truffle Sauce we call Tartufata and all the flour, premium ricotta and organic eggs to make the pasta.
Wagyu Ribeye, Truffle & Wild Mushrooms
Amazing beef pan-seared in fresh herbs and topped with a wild mushroom cream sauce.
Kit includes:
12 oz ribeye (Wagyu option)
Selection of premium foraged wild mushrooms
Vegetarian option includes additional local foraged mushrooms
Shallot, Garlic and Thyme
Madeira
Balinese Truffle Salt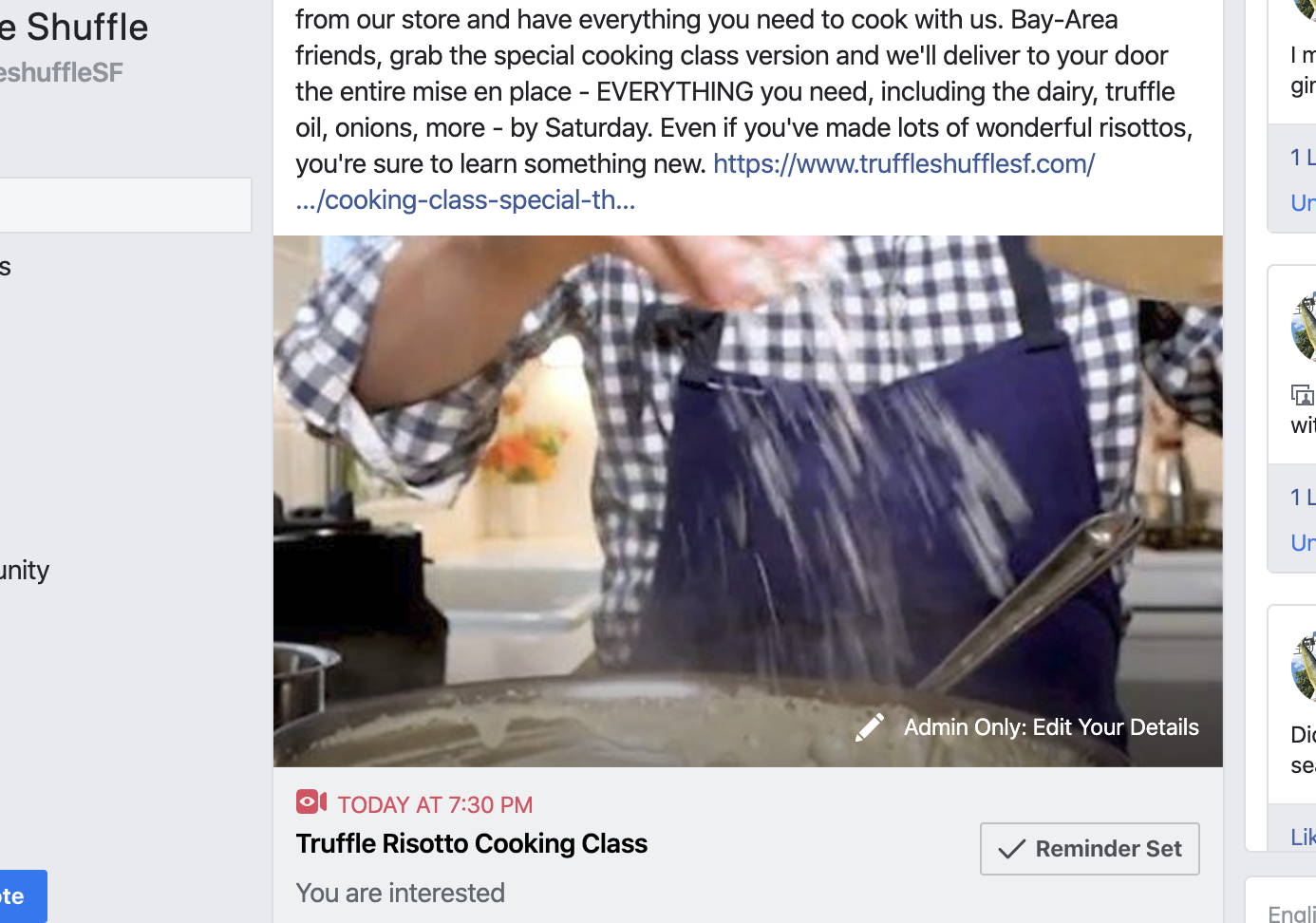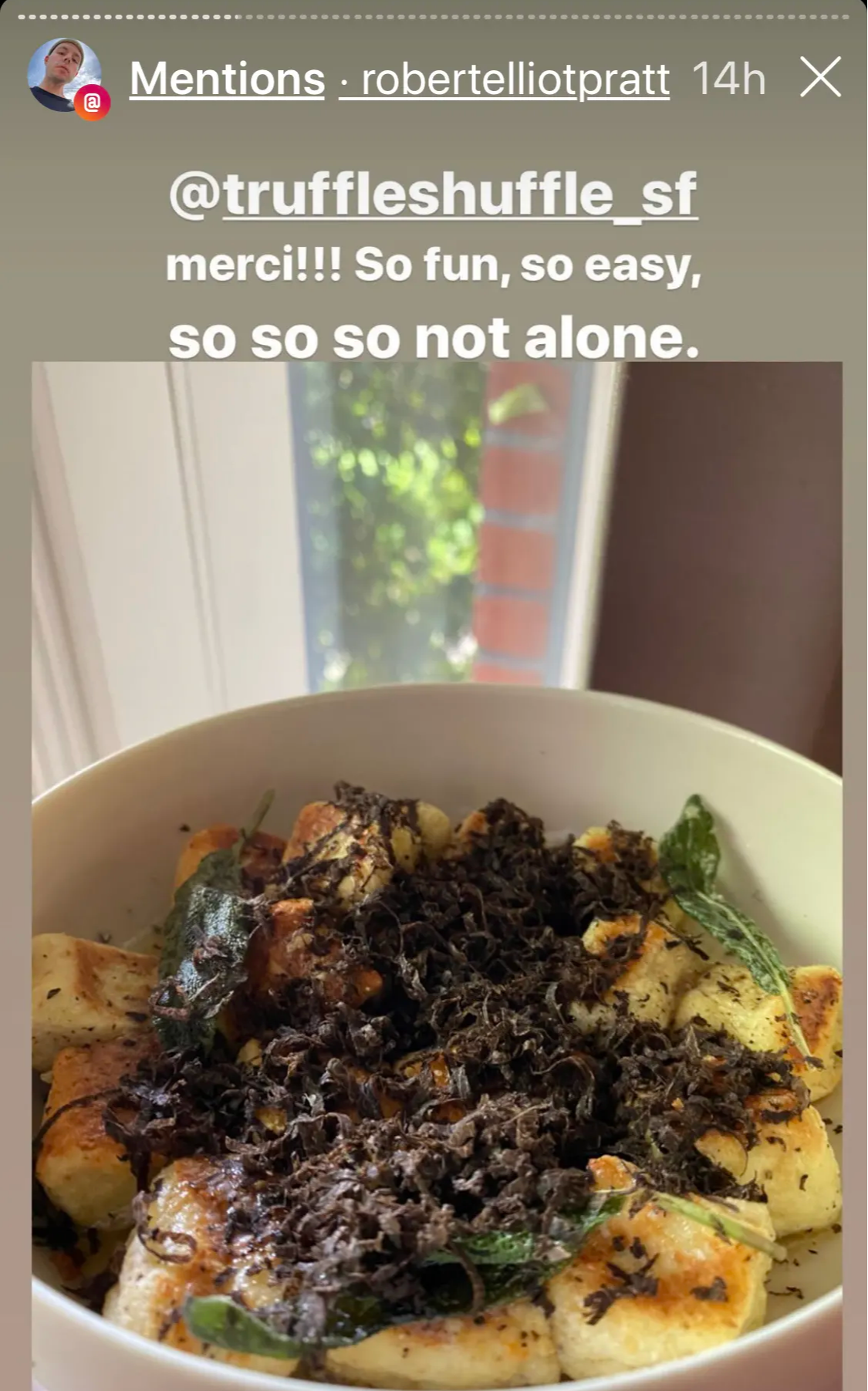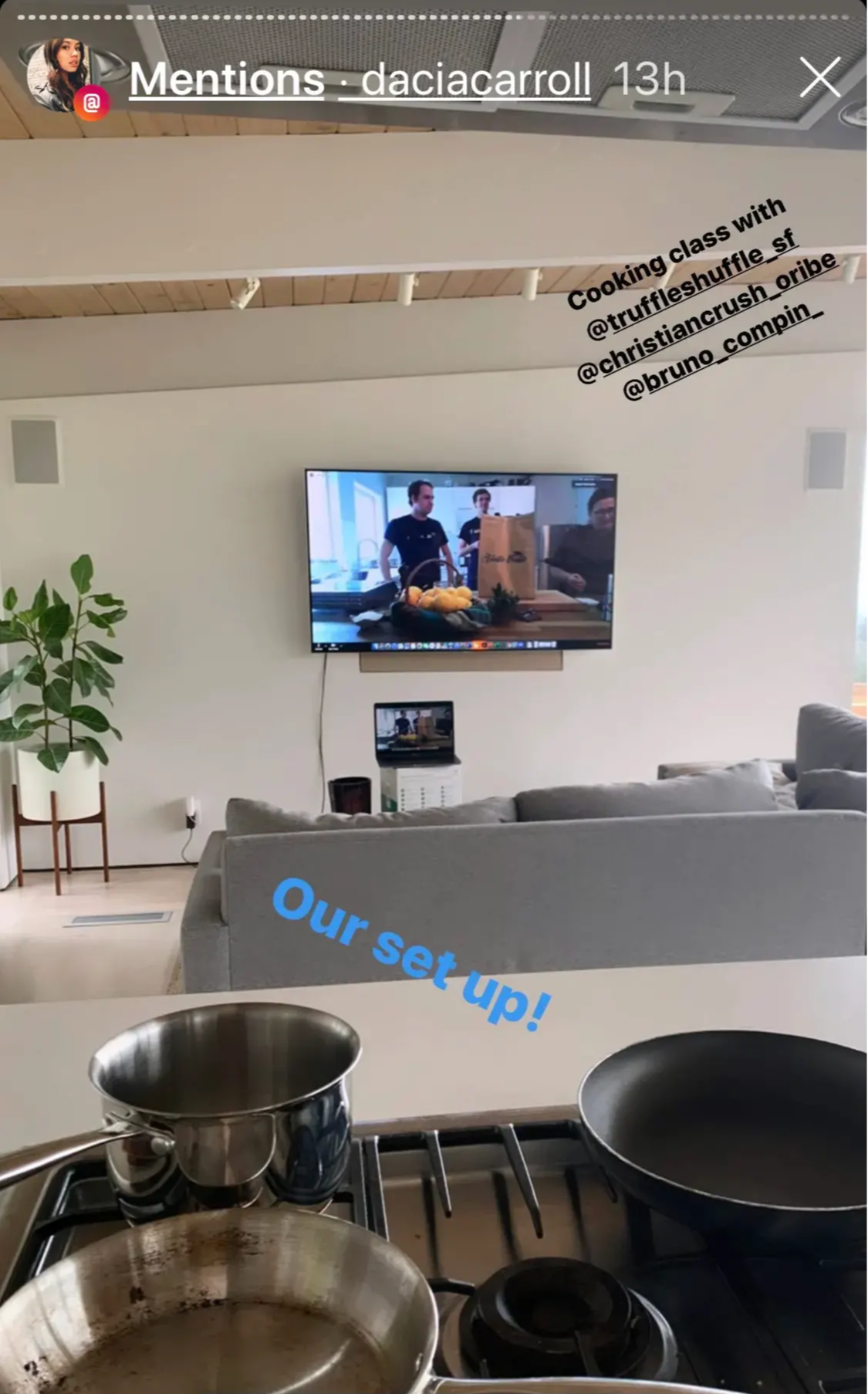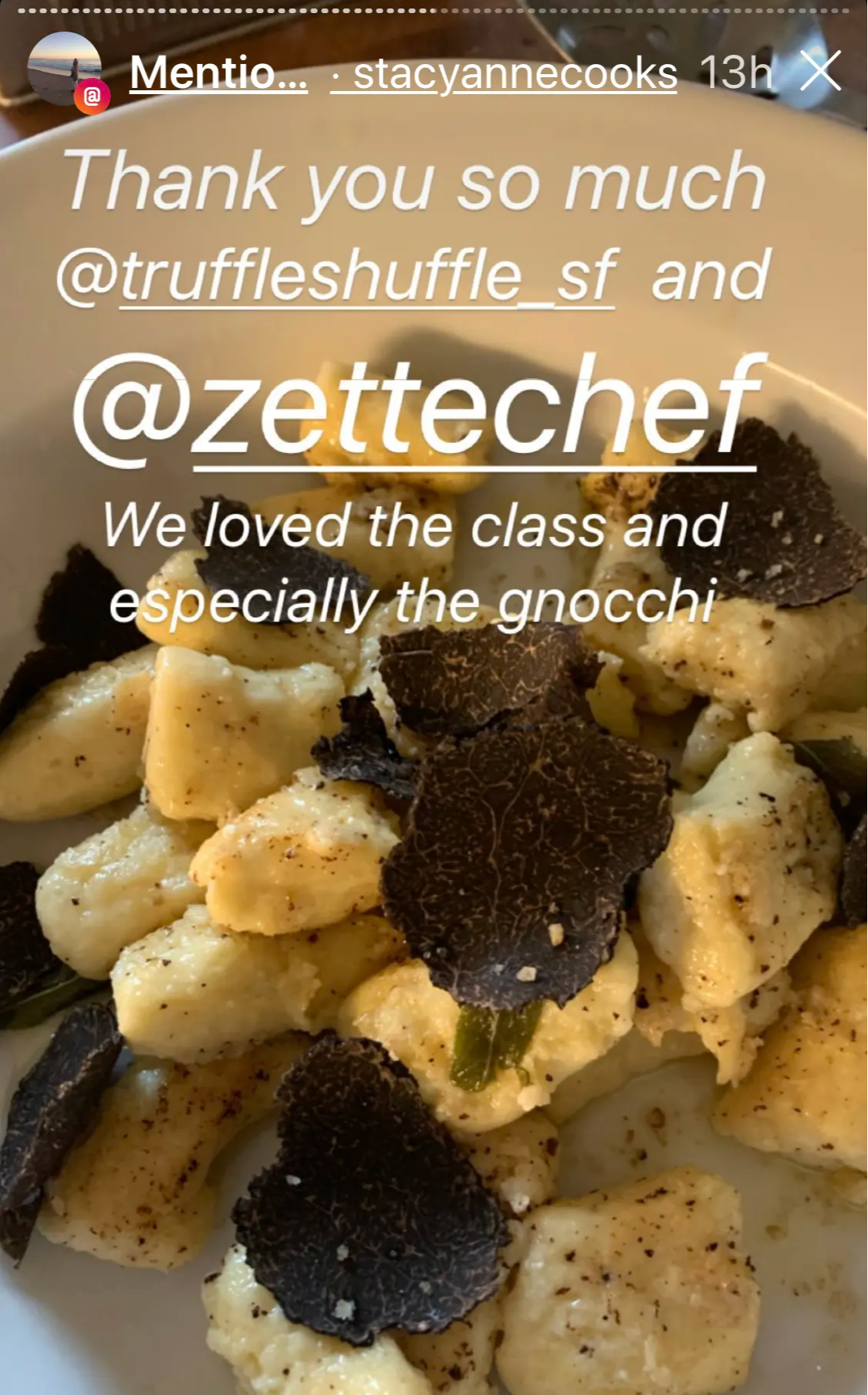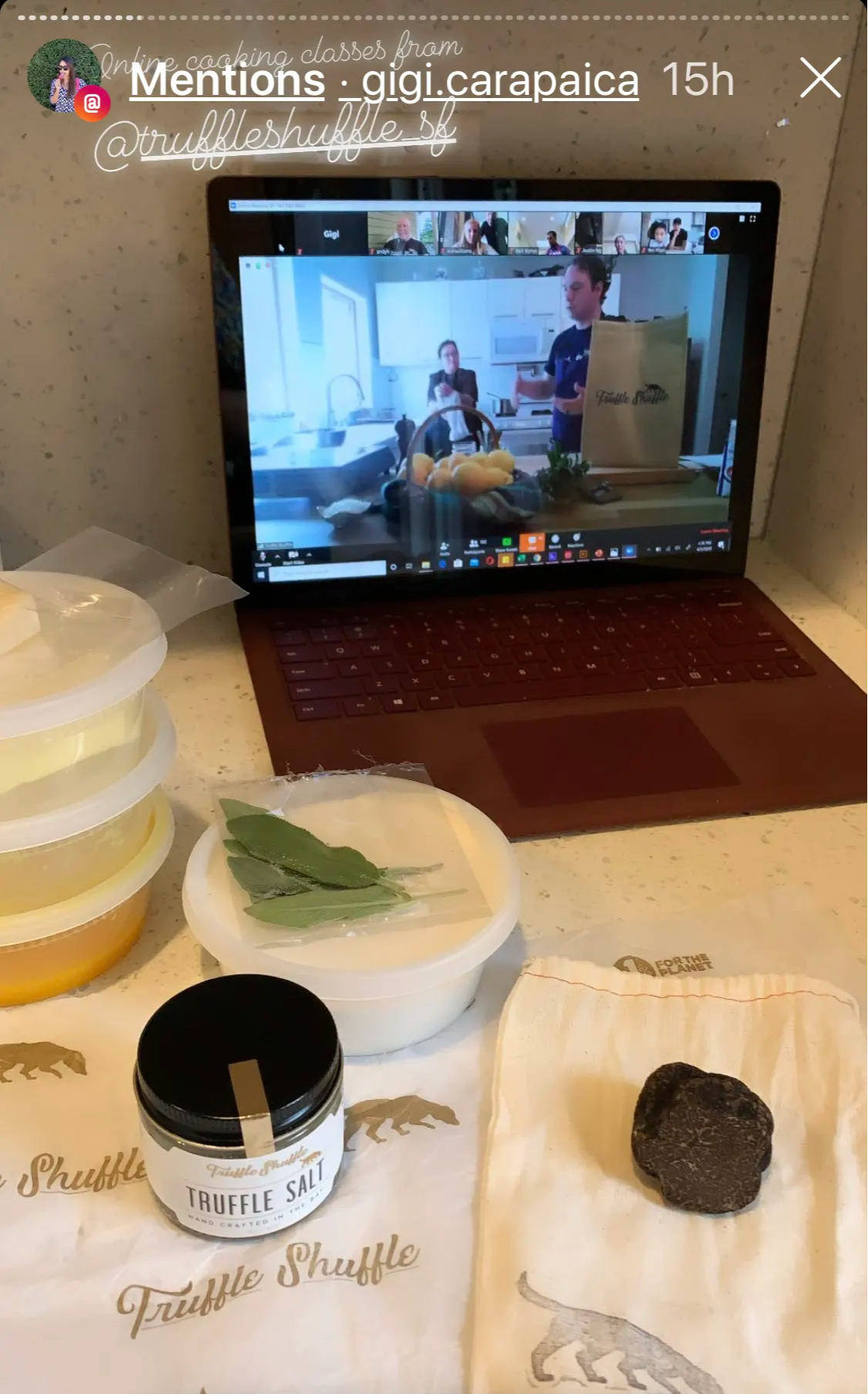 ---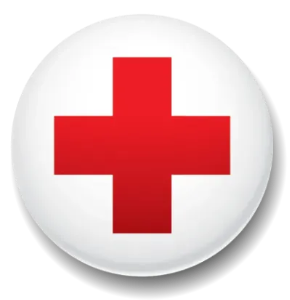 GIVING BACK:
Thousands of dedicated healthcare professionals need our support. For every class kit you purchase, you are donating a much deserved meal for a healthcare worker on the front lines of this crisis.
---
Pull your team together.

Lead everyone in a fun, engaging team exercise
all remotely and safely from their own kitchens.