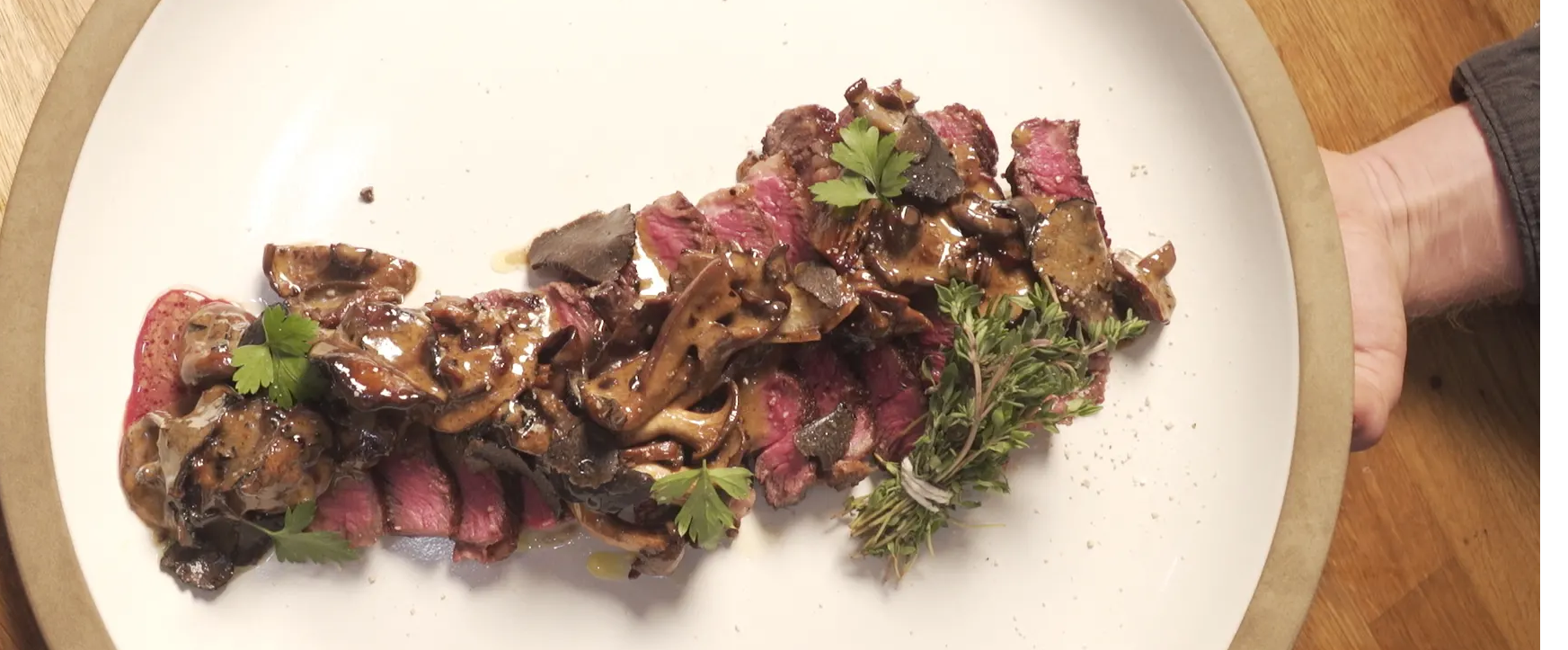 Enjoy some of the tastiest beef and select wild mushrooms in an entertaining, interactive class with world-class chefs while learning techniques to make this amazing dish in your own kitchen.
Your Ingredients:
Butter   2.5oz
Garlic, minced 1 clove
AP flour     1/4c
Cream   1 pint
Whole milk 1 pint
Bay leaf         1
Elbow macaroni   9 oz
Cowgirl Creamery   7oz
Wagon Wheel cheese          
Sharp cheddar     5oz
Mozzarella     5oz
Panko breadcrumbs     ⅓c
Dried thyme 1/4tsp
Balinese Truffle Salt
Black Truffle Carpaccio
Preheat oven to 350F. Fill 3qt pot with water, top with lid, and bring to the boil.
Heat the butter in the 2qt saucepan over medium-low heat. Cook the minced garlic in the butter with a pinch of Balinese Truffle Salt until soft. Add the flour to the pot and cook over medium-low heat, stirring with a wooden spoon for about 3-5 minutes.
Add 1c of milk to the pot and turn the heat up to medium-high. Stir constantly until at a boil. You want the mixture to be smooth and homogenous. Add the rest of the milk/cream and bring back to the boil again. Keep whisking and add the bay leaf. Simmer for 15 minutes, stirring from time to time.
While the sauce is simmering, grate all of the cheese. Once finished, take the pot off the heat, remove the bay leaf from the sauce and add the cheese, reserving 1 cup for later. Whisk until all cheese is melted.
Now, it's time to cook the pasta. Lightly season the large pot of boiling water with salt, add the macaroni,and cook for 5 minutes. Strain the cooked pasta and add it back to the large pot. Add all of the cheese sauce to the pasta and stir to combine. Season with Balinese Truffle Salt.
Chop half of the Black Truffle Carpaccio and add to the pasta and cheese sauce mix; stir until combined.
Heat the broiler to High and transfer the mixture to the pyrex container or cast iron skillet. Top the mac n cheese with the remaining 1 cup of shredded cheese, place under the broiler and cook for 2-5 minutes or until brown and bubbly on top.
Toast the panko in a small saute pan on top of the stove until lightly browned and toasty. When the mac n cheese is finished, remove from the oven and top with the remaining Black Truffle Carpaccio.
Sprinkle with the toasted breadcrumbs and enjoy!!!