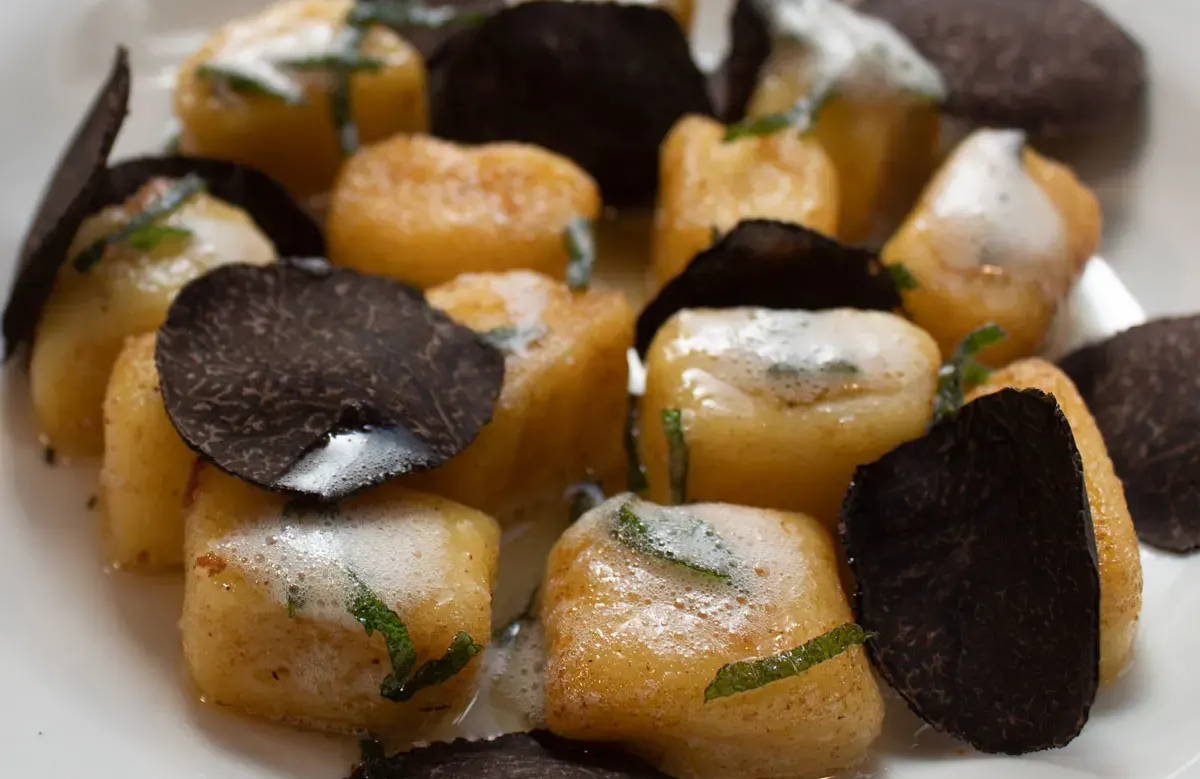 Acquerello and Chef Gresham have received countless awards, including two Michelin stars and the Wine Spectator Grand Award from 2012 to 2019.
For more than three decades, Acquerello has offered an unparalleled Italian fine-dining experience in San Francisco's Nob Hill neighborhood. The restaurant, operated by Giancarlo Paterlini and Executive Chef Suzette Gresham, has been heralded for its cuisine, wine, and service.
Your Ingredients:
Ricotta, whole Cow's milk, drained   16 ozs.
  (Bellwether Farms)            
Egg yolks, large           3
Parmesan cheese, grated       1 oz.
Black pepper, fresh grind to taste
Meyers lemon             1
  zest of ½ micro-planed, ¼ strained juice                
Flour, "00" preferably     ¾ cup
(All Purpose is fine)            
Dash for dusting rolling surface              
Kosher Salt to taste
(* Night before - line a strainer with a paper towel or coffee filter. Drain the ricotta overnight in the refrigerator.)
In a bowl, combine: drained ricotta, egg yolks, cheese, pepper, lemon, flour, and salt.
Put a pot of water on the stove to boil. Add a pinch of salt.
Lightly dust work surface with flour. Form gnocchi mix into a disc. Cut into 6 wedges. Roll one wedge into a rope ¾" thick.
Use a knife or bench scraper to cut "knuckle" sized pieces. Test one gnocchi. It should float in less than one minute.
Roll and cut the remainder of the dough to resemble little pillows. Set on a cookie sheet, lined with wax paper until all are cut. Hold.
You can cook and eat them immediately, OR blanch the gnocchi, chill in an ice bath, drain, lightly toss with oil and hold until later.
Brown Butter Sage Sauce
Butter, unsalted   3-6 Tbsp.
Sage leaves, washed         8 - 10
Truffle Shuffle truffle salt   to taste
Truffle, fresh   to taste
Melt butter until golden brown in a shallow pan. Add sage leaves. Add heated, cooked gnocchi to the pan in a single layer. Toss and plate attractively using the sage. If desired, sprinkle lightly with truffle salt.
Serve immediately and shave truffles over liberally.
Buon Appetito!