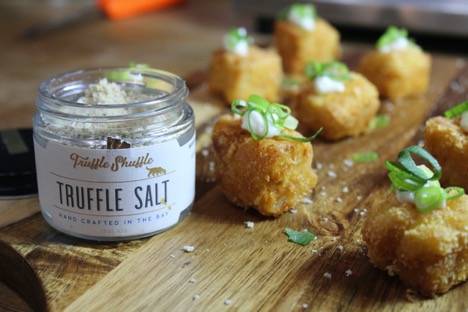 If you need a quick and easy recipe to make a super delicious canape for New Years Eve then this will get you there. It is equal parts cheesy and delicious as well as all parts truffled.
Equipment needed;
We love our Hestan Copper Bonded Essential to prepare this recipe you can blanch the pasta, make the sauce and fry the bites all in the same pan!
INGREDIENTS:
1 box Rao's Macaroni Noodles
1 Cup Mozzarella-Diced
1 Cup Parmesan-Grated
1 Cup Cowgirl Creamery Mt Tam-Grated
2 Cup Heavy Cream
2 Eggs, beaten
1 Box of Potato Flakes
Sir Kensington Mayonnaise
Scallion for Garnish
Vegetable Oil for Frying
Fresh Truffles if you are taking New Years all the way!
Salt to season
How to make the Truffled Mac and Cheese Bites in under 30 minutes
Bring water to a boil, lightly season with Truffle Salt. The water should taste like the ocean.
Once boiling add pasta and cook for 8-10 minutes until cooked through. Drain and reserve.
Clean pan and add cream. Bring cream to boil and slowly add each cheese.
Once all cheese is incorporated and melted, add the pasta back in. Mix completely.
Add a touch of Truffle Oil and season with Truffle Salt.
Once all the pasta is covered in cheesey, truffley goodness, then it's time to chill the mac and cheese.
Transfer the mac and cheese to a parchment-lined pie tin and put in the fridge for one hour.
Clean the pan and add 4 cups of vegetable oil and bring to 350 degrees F.
Take the mac and cheese out and dice into 1" cubes. Batter the cubes in egg and potato flakes. Make sure that they are thoroughly battered.
Pan fry in the vegetable oil until golden brown. You will need to flip them to get the color even all around.
Once the mac and cheese bites are cooked and crispy, drain on a paper towel.
Slice scallion and reserve for garnish.
Prepare a quick truffle aioli for garnish or dipping by combining mayo with a touch of Truffle Oil and Truffle Salt.
Place a drop of the truffle aioli on each mac and cheese bite, add scallions.
Season with Truffle Salt
Microplane fresh truffle to finish.