Macaroni and cheese is possibly one of the best ways to introduce Americans to truffles. It's simple, comforting, and absolutely delicious.
Here is a recipe for mac 'n' cheese that is certain to impress with or without the truffles! But with the addition of fresh truffles, this everyday mac 'n' cheese is certainly taken to the next level.
INGREDIENTS:
4 T AP flour
3 T Butter
1 ¼ qt Whole milk
1 c Heavy cream
½ Onion, studded with 1 whole clove
1 Bay leaf
2 c Sharp cheddar cheese, shredded
1 ½ c Parmesan cheese, grated
1 lb Macaroni
½ c Panko, toasted
1 T Dried thyme, crushed
¾ c Mozarella cheese, shredded
Balinese Truffle Salt
Burgundy Truffles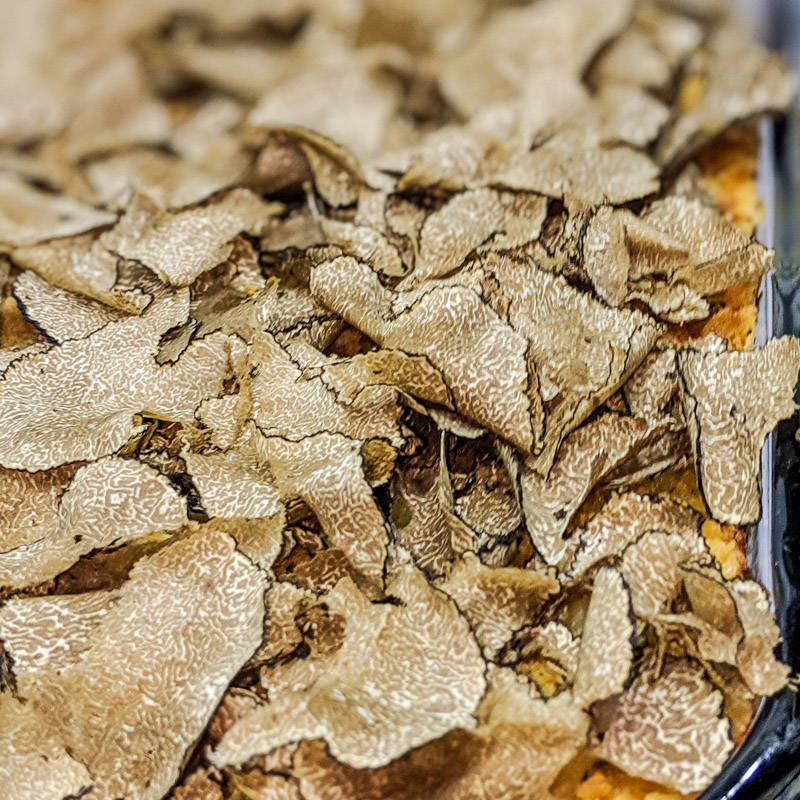 Heat the butter in a large, heavy-bottomed pot until melted.


Make the roux by adding the flour and cook over low heat while stirring, for about 5 minutes or until the flour begins to have a slightly toasty aroma.


Whisk in 1 cup of milk into the roux, ensure there are no lumps.


Add the rest of the milk and cream to the paste and again whisk to avoid any lumps.


Add the halved onion and bay leaf and cook over medium-low heat for 20 minutes; whisking from time to time making sure the sauce doesn't scorch.


Once cooked, strain the sauce into a large bowl.


Add the shredded cheese to the sauce and whisk to combine. Season to taste with Balinese Truffle Salt.


Heat a large pot of water to the boil, season lightly with salt and cook the macaroni until just al dente. You don't want to overcook the pasta at this step because it will continue to cook a little more in the baking process.


Drain the pasta and fold into the sauce.


Transfer the pasta and sauce to a sprayed, 13x9" Pyrex container. Top the pasta with shredded mozzarella cheese.


After the layer of shredded mozzarella, top with an even layer of toasted panko mixed with the dried thyme.


Bake macaroni and cheese, covered with foil, at 375F for 20 minutes.


Remove the foil and bake for an additional 10-15 minutes.


Remove the hot mac 'n' cheese from the oven and shave fresh truffles all over the top!!
Serve immediately to your friends. Sprinkle each serving with a touch of Balinese Truffle Salt and sit back while their minds are blown.