With colder temperatures and the abundance of wonderful fall and winter squash, there are many ways to prepare a delightfully warm, satisfying squash soup. If you're searching for one that's on the lighter side with tons of healthy vitamins, try ours featuring carrot juice and lots of lemon. Very refreshing, not at all heavy, but still so flavorful and heartwarming on cooler days.
INGREDIENTS:
(makes a large pot, enough to feed a crowd or freeze for later)
2 LG Butternut Squash
1 Gal of Carrot Juice
1 c Heavy Cream
Salt to taste
1 Lemon, juiced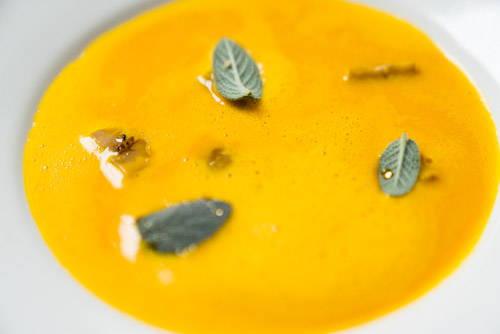 Clean, peal and cube the squash. Add to a large stock pot with 1 gallon of carrot juice, plus a cup of heavy cream and slowly bring to a boil. Watch carefully and stir occasionally. Once boiling, reduce heat and cook for 15 minutes.
Once fully cooked, remove from heat and transfer to a blender. Blend until smooth. Strain and add the juice from two lemons.
Serve warm with a garnish. We enjoy the added depth and flavor from a drizzle of our Brown Butter Truffle Honey.