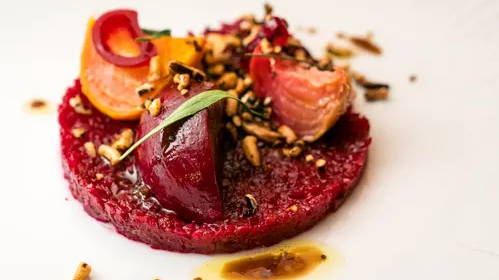 This is a delicious and fun salad that is sure to please. The textural play with firm marinated beets, soft beet "carpaccio" and the crunch of puffed rice also yields complex flavors that will entertain the palate.
INGREDIENTS:
3# mixed heirloom beets, roasted, peeled, and quartered
¼# Bing cherries, de-pitted and stemmed
1 - 2c Acidulated simple syrup
      - dissolve 2/3c sugar in 1-3/4c water with zest
      of 1 lemon and small orange
Balsamic reduction, as needed
Mixed tiny herbs
1/4c wild rice fried at 400F to puff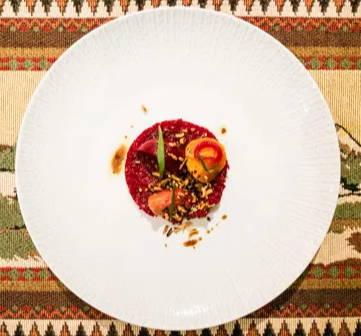 Quarter beets, toss with salt and EVOO, cover with foil and roast in 400F oven for 35-40 minutes.
Puff wild rice in heavy sauce pan, under a lid, in hot vegetable oil. Similar to popcorn. Season with salt.
Poach cherries in acidulated simple syrup until soft, about 10 mins.
Season the cherries and beets with balsamic, EVOO and salt to taste.
Reserve a cup or more of beets and finely chop (hache) the rest. Plate the "carpaccio" and top with remaining beet quarters and cherries. Garnish with puffed rice and herbs from the garden.